The majority of headphone users would agree that their listening experience is usually at its best when all surrounding noise is blocked out or toned down to a minimum.
This is exactly where noise cancellation earbuds and headphones come in. Noise-cancelling earbuds help cancel out unwanted ambient noises utilizing active noise cancellation (ANC) and passive ambient noise cancellation settings. The only difference is that passive noise cancellation minimizes ambient sounds using soundproofing.
Headphones that feature active noise cancellation are designed to enable users to listen to audio content without having to increase the volume to the extent where it becomes harmful to the hearing. They are effective enough to improve listening by entirely offsetting the sounds of any distracting activity within your surroundings.
How noise cancelling earbuds work
To understand how noise cancellation headphones and earbuds work it's important to have an idea of the basic principles and processes behind them.
Active noise cancelling
Active noise cancellation technology works by operating with a principle in physics known as phase cancellation. Since sound travels into the ear canal in waves by moving air molecules.
It's only logical that if a particular sound wave comes in contact with a different sound wave of the same frequency but in an opposite amplitude, they would both naturally negate each other.
This, of course, is the same principle that applies to active noise-cancelling headphones and over-the-ear headphones. Active noise-cancelling headphones are designed with tiny microphones on the interior, but in some cases, these small microphones can also be found on the exterior of the ear cups.
These microphones are present to process any external sound or noise heading toward your ears and to immediately play the reverse phase of that same sound into the headphones' drivers.
As a result of the two opposing sounds, the air molecule movement is effectively negated or toned down, thereby making such external noise less perceptible.
To cancel out lower frequency noise proportions, noise cancellation headphone manufacturers apply ANC active noise control settings. The process involves installing a microphone intended to capture ambient sounds, with the inclusion of an amplifier that creates sound waves of an entirely different phase of that of the unwanted noise.
Therefore when the sound pressure of the noise is elevated, the cancellation wave is reduced. And when the sound pressure of the noise is low, the cancellation wave is inversely high which causes the opposite sound waves to cancel each other out.
This noise-cancelling technology is generally implemented by Bose in the manufacturing of their active noise cancellation headphones and earbuds to give their users an immersive listening experience.
Passive noise cancelling
These noise-cancelling headphones are a great fit for people who frequently travel by aeroplane and others who would simply like to drown out the sound of chatter or random noises around them.
As mentioned previously, passive noise-cancelling headphones make use of soundproofing which creates a barrier of sorts between the sounds you want to listen to and the sounds you're less interested in.
Some high-quality but rather pricey passive ambient noise-cancelling headphones come prepackaged with ear pads and ear cups specifically to restrict as much high-frequency noise as possible while retaining the best level of comfort for their users.
Whatever ambient sounds you hope to tune out, a pair of passive noise-cancelling headphones should do the trick. They're also a good choice if you'd like to be aware of your surroundings, just in case.
One notable benefit of using passive ambient noise-cancelling headphones is that you're less likely to experience eardrum suck, which is a common inconvenience which a lot of people aren't particularly fond of.
It can sometimes feel like an intense burning sensation around the ears, to a mild headache.
How to choose the best noise cancelling earbuds & headphones
It's quite common for people to rush into buying headphones without paying attention to some relevant details, only to find out later on that what they've purchased doesn't fit into the idea of what they'd expected.
Although there are a ton of inexpensive noise cancelling true wireless earbuds you can buy, the following are some things to keep at the back of your mind just before you make that purchase.
1. Noise-cancelling effectiveness
This is entirely dependent on each individual's preference. If you prefer not to be disturbed by noises in your surroundings, then a pair of active noise cancellation headphones are a splendid choice for concealing such sounds.
These noise-cancelling earbuds are exceptionally useful based on the fact that you wouldn't have to turn up the volume excessively. While these headphones are perfect for tuning out of your environment, there's a possibility that you might experience some slight discomfort due to the clamping pressure of the headphones on your ears.
For others who would like to be aware of their surroundings while listening to some music or audio content, a pair of passive ambient noise cancellation headphones should serve as the perfect balance.
2. Sound quality
When choosing noise cancelling headphones, it's imperative to find out how clear and authentic the sound is. The best way to do so is to try them out over a call. You can also try listening to some music with the volume at the lowest, then increase it gradually until it's at its highest to see just how well it can work in a noisy environment.
3. Comfort
Before deciding on a new pair of noise-cancelling earbuds, you might as well compare their design with other brands in the store to ensure that you get the right fit for yourself.
Aside from the design, you should also consider the material of the earbuds and earphones to make sure you'll be comfortable with them just in case you have to wear them for prolonged periods.
They must also fit into your ears without any hassle and you shouldn't have to adjust them every time you turn your head. When picking headphones it's essential to choose one with comfortable ear pads just as it's important to get one with quality sound.
4. Battery life
Battery capacity is a very important factor to keep in mind before buying a new pair of headphones or noise-cancelling earbuds. The standard battery life should be able to last for as long as you would normally use your headphones and earbuds.
Wireless noise cancelling earbuds are expected to last for no less than 5 hours, while over-the-ear headphones are expected to last for at least 15 to 20 hours.
Top recommendations for the noise-cancelling earbuds & headphones
The following are some of the best, highly recommended noise cancelling earbuds and headphones. Under each product, you'll find a description of the battery life, comfort level, and sound quality.
1. Bose Headphones 700
Bose headphones 700 revolutionized (ANC) headphones into what they are today. The product has been highly acclaimed and supported by its audience for their release of these fully functional active noise canceling headphones.
In the case of the Bose Headphones 700, they have done an exceptional job with noise cancellation. Owing to its superior design, clear and authentic sound, and USB Type-C fast charging, it stands out. Additionally, its highly responsive touch-sensitive control pad for music playback is impressive.
The Bose headphones 700 offer a slight sound, a world-class noise cancellation feature, and to crown it all they're one of the best headphones for great audio clarity when making voice calls.
For a better listening experience try checking out the Bose Music App to try on several new features and settings. The best noise-cancelling earbuds come with an app that helps you easily control the headphones without touching them.
Features and benefits
These noise-cancelling headphones are an absolute match for just about anyone including students, due to their affordability and top-class ANC feature. They can come in handy if you're studying and need to block out distracting chatter in the library.
They're also a nice pick for travellers, regardless of their favoured mode of transportation, whether by aeroplane, train, or bus. The Bose noise-cancelling headphones 700 are all you need for tuning out loud engine sounds and noise from passengers in general.
When it comes to world-class active noise-cancelling headphones, you can't possibly go wrong with a pair of Bose headphones 700. Although they don't feature water resistance, these headphones can't be affected by mild downpours of rain.
The Bose headphones 700 features a metal headband construction which makes it a lot more difficult for them to break by accident.
You'll find a total of three buttons on the headphones, however, unlike typical headphones, there aren't any playback buttons. What you'll find are gesture-sensitive pads with touch controls on the right ear to allow you to switch through your playlists with ease.
Noise-cancelling effectiveness
If what you need is a round-up of today's best deals and leading noise cancelling technology headphones that prioritize ANC, then look no further than the Bose headphones 700.
They are technically way more efficient at cancelling out ambient noises than any other brand in the market, plus their audio quality is sublime and authentic, which isn't very easy to come by.
The Bose headphones 700 come with full codec support which is necessary for streaming high-quality audio content. With so many features packed into a single device, the Bose headphones 700 is certainly a force to reckon with, especially among audiophiles who know their stuff.
Sound quality
The sound quality of the Bose headphones 700 is superb, and in addition to their impeccable and balanced sound they also have a highly effective noise cancellation feature that deters all background noise when the setting is activated, they're also very well built and lightweight.
The Bose headphones 700 do a sterling job when it comes to their call quality. The microphones were specifically designed with a ton of TLC by Bose engineers to ensure that they easily pick up on voices so that you can hear them. These headphones work with a low-frequency attenuation which is essential in reducing the proximity effect.
The Bose headphones 700 are exactly what you'd call an all-in-one package and the second best part about them is that they are quite inexpensive considering the variety of features they offer.
Comfort level
They're designed with soft ear pads to make sure you stay comfortable for long periods of usage, the ear cups are made to rotate a full 90 degrees which makes it easy to rest them around your neck whenever they're not in use.
You'll also notice that the mechanism for adjusting the headphones to fit your ears has been replaced to slide smoothly without making any sound whatsoever, so you shouldn't expect to hear that clicking sound whenever you adjust them.
Battery life
In terms of battery life, on a full charge, the Bose headphones 700 can last for up to 20 hours on continuous usage.
If you're hoping to squeeze in a couple more hours, there's a setting on the headphones app that lets you set a timer that makes the headphones turn off at the exact time you want. This setting is especially useful if you happen to fall asleep when making use of the headphones.
Regarding the charging speed, thankfully the Bose noise-cancelling headphones 700 charging case is compatible with USB C-type fast charging, which means the duration for charging is practically split in half when compared with the charging time of typical headphones.
2. Bose QuietComfort Earbuds II
The quest for the best ANC true wireless earbuds isn't as far-fetched as it used to seem. Regardless of whether you're an avid iPhone user or an Android enthusiast, Bose QuietComfort II headphones are sure to put an end to your search.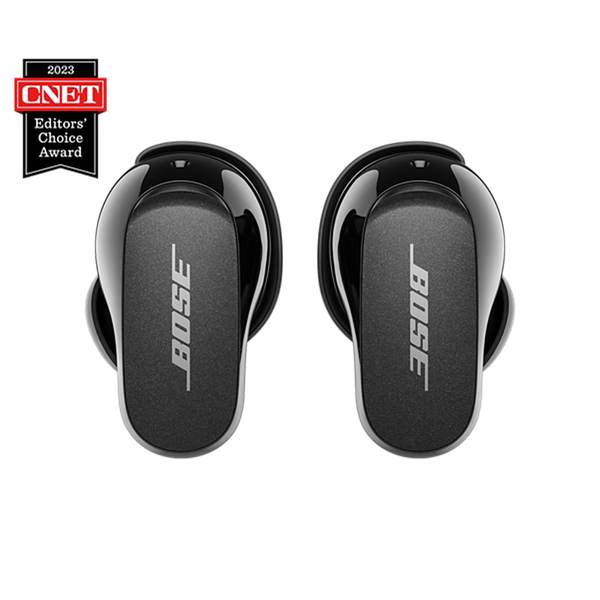 Bose knows exactly what the people expect from their true wireless earbuds and makes it a priority to meet these needs each time. The Bose QC wireless noise cancelling earbuds are just another example that proves this point. There are more than a couple of reasons to buy these wireless noise-cancelling earbuds which you'll come to realize as you read further.
Features and benefits
These wireless noise-cancelling earbuds are a perfect fit for everyone and are guaranteed to quiet out ambient noise in your surroundings, whether you're travelling on an aeroplane, a train, or even when you're in the office, the ANC remains just as effective.
If you don't mind spending a little extra for your entertainment, you'll surely enjoy the comfort and quality of the Bose QuietComfort true wireless earbuds.
Not only are they aesthetically pleasing to look at, they are also lightweight, easy to handle, and come in sandstone, stoneblue, white or black variants. They share a slight similarity to the Bose headphones 700, although they still maintain their level of uniqueness and stay true to the quality standard of every Bose ANC headphones and true wireless earbuds.
These wireless noise-cancelling earbuds come in a charging case that also accommodates the earbuds. The charging case can be cleaned simply by wiping it gently with a cloth a few times now and then to keep it from accumulating dust.
You'll find five LED lines on the charging case that indicate the battery level. There is a button in between the earbuds cutouts that you can use to initiate manual pairing mode.
When you buy a pair of the Bose QuietComfort earbuds and open the case for the first time, the earbuds automatically enter pairing mode. To get the best experience from these earbuds you might have to consider downloading the Bose Music companion app. The app helps you easily switch between devices, control ANC levels and configure the controls in whichever way you'd prefer.
You also have the option of setting three quick favourite ANC settings and a transparency mode which you can circle through by double-tapping the left earbud. The Bose QC earbuds have easy-to-use gesture and touch controls that can be operated with a series of swipes and taps.
Noise-cancelling effectiveness
For people that tend to commute frequently who are in search of highly functional noise-cancelling technology earbuds, the Bose QC earbuds are an excellent ANC choice. These earbuds efficiently drown out droning sounds in any form, be it the sound of a train's engine, or the rumble of automobile engines. It's quite startling how well the Bose QuietComfort earbuds actively tones down the sound of a motorcycle when biking when the ANC is tuned to the maximum setting.
The adjustable sliding panel allows you to adjust the noise-cancelling from a minimum of one to a maximum of ten, and also control the transparency mode if you want to be more aware of your surroundings.
It should only take you a short time to get the hang of it, but either way, when you reduce the ANC setting you'll still find that the ambient noise is a lot better than most of its competitors. It's literally one of the best neutral executions of transparent hearing so far.
Sound quality
Like most Bose headphones and earbuds, the Bose QC earbuds sound pretty decent with dynamic sound and Spatial audio format as is to be expected from the brand. The earbuds' bass notes are seemingly amplified and almost twice as loud as average mid-range notes.
Audiophiles are sure to enjoy the amped-up bass and upper mid-range sound boost as it adds a little kick to your playlist while maintaining every harmonic detail.
The Bose QC earbuds follow the same rules for sound quality as every other earbud brand, which simply means the sound can be regulated by your ability to get the proper fitting ear tips. As such you need to note that Bose offers three categories of ear tips; small, medium and large, all of which play a vital role in ANC and optimal bass effect.
Comfort level
The Bose QuietComfort earbuds might appear sort of bulky at first sight, but don't mistake them for being heavy. Quite the contrary, they're lightweight and very much comfortable even for long listening sessions.
Battery life
We conducted a battery test on the Bose QC earbuds to determine their limit by subjecting them to a constant 80dB volume output until the battery was completely depleted. Unlike the case with other wireless earbuds that can only manage a four-hour battery life, the QuietComfort earbuds were able to last for 5 hours, 23 minutes with ANC enabled.
Although the Bose QC earbuds should be able to last up to an estimated six hours in moderate use, with the noise-cancelling feature, you may get an hour less.
The Bose QC earbuds feature a USB-C charge which means they can be fully charged by placing them in the charging case for a total of two hours. Aside from the USB-C charge, the charging case also supports wireless charging. However, the wireless charging speed is mostly dependent on the specified mat.
3. Bose QC45 noise-cancelling headphones
According to Bose, these noise-cancelling headphones maintain the hallmarks of their predecessors, especially in terms of comfort, audio quality, reliable controls and so on.
It's quite evident that the Bose QC45 noise-cancelling headphones share a similar design with the QC35 and QC35 II except for some unique features of their own.
Noise-cancelling effectiveness
As stated by Bose when the QuietComfort 45 noise-cancelling headphones were first unveiled, there's a noticeable improvement in the active noise cancelling feature and ambient mode of this model with the addition of a special combination of internal and external microphones linked using a proprietary digital chip.
The company further explained that this setup was intended to proactively detect and silence more mid-range noise frequencies — such as the roar of a train, or the noise in the office or a coffee shop — such noises would seem non-existent as long as the Quiet mode is activated.
The QC45 noise-cancelling headphones also feature an Aware mode that provides full transparency of your environment as you listen to some audio content.
Sound quality
The audio quality of the Bose QC45 noise-cancelling headphones are very impressive and a welcome step up compared to the previous models in the QC category.
With the installation of a fourth external microphone, the voice and call quality of the Bose QC45 noise-cancelling headphones is a lot more improved to the extent that it remains unrivalled by its competition.
As long as the noise-cancelling setting is active, these headphones will continually isolate and keep the focus on your voice, while at the same time a noise-rejecting algorithm constantly filters out every environmental sound for clearer conversations.
Comfort level
Although the company thought it would be a good idea to go for the updated look of the Bose 700, it primarily maintained the aesthetics of the QuietComfort line when designing the QC45 model.
Nonetheless, you should expect these headphones to be just as cosy and light on your ears seeing as none of the changes made should have any real impact on the QuietComfort's highly esteemed status as one of the best and most comfortable globe-trotting companions.
Due to the reincorporation of the hinged headbands and rotating ear cups, the QC45 noise-cancelling headphones still fold flat for ear storage.
With the incredibly smooth water resistance pleatless cushions, luxuriously plush leather, and minimal clamping force, you'll lose yourself in the comfort of these headphones and even forget you're wearing them at times, even after hours of listening.
Battery life
The Bose QuietComfort 45 noise-cancelling headphones battery promises up to 24 hours of listening time on a full charge.
Conclusion
As we continually witness the technological advancements in portable audio listening devices, it has become evident that noise cancellation headphones and earbuds are a step in the right direction and quite frankly the future of audio devices.
They're a must-have for situations where you feel the need to tune out of your environment and focus on yourself, your work, or exercise. They also facilitate a better experience when listening to some music, watching movies, streaming your favourite shows or podcasts.